I just love a good dipping sauce for everything from wings to fresh spring rolls. As a super-fan of Asian cuisine and buoyed by a false sense of self-confidence after witnessing the popularity of my Vegan Somen Salad Recipe, I decided I needed to tackle a Simple Vietnamese Fish Sauce for Dipping that would be the perfect complement to any number of my upcoming seasonal recipes.
This post contains affiliate links. That means I will earn a commission if you purchase a product (at no additional cost to you) through certain links on this page. These commissions help keep my kitchen lights on.
First off, I would like to say that this Vietnamese Fish Sauce recipe was inspired by one of my favorite food bloggers – Hungry Huy – and his excellent recipe for a Vietnamese Dipping Sauce.
Naturally, I didn't want to simply copy his recipe (even though that may have tasted better than what I came up with – LOL!), so I put my 'food blogger spin' on Bryan's relatively simple recipe by changing the proportions and adding one VERY unusual ingredient (keep reading below to see what it is).
Let me know what you think in the comments below!
But before we get to my recipe…
Why Is Everyone So Confused About Fish Sauce?
I think the reason is in the name – or maybe it's partly in the translation from Vietnamese to English – either way, I think the confusion is because the dipping sauce that each of these recipes explains how to make, is sometimes simply called fish sauce.
The distinction is that, according to Wikipedia, "Fish sauce is a liquid condiment made from fish or krill that have been coated in salt and fermented for up to two years…."
Looking for a Meal Delivery Kit Service That Won't Break the Bank?
Check out EveryPlate – America's Lowest Cost Meal Kit Service. At $1.99 Per meal for Your First Box and $3.99 per meal for your next two boxes, Why Wouldn't You Try EveryPlate?
So, Is This A recipe For Fish Sauce or A Dipping Sauce?
This recipe is for a dipping sauce. This recipe and those that other food bloggers describe, certainly INCLUDE the pre-made liquid condiment called fish sauce, but this recipe and the other 'fish sauce' recipes you read online are, technically, recipes for dipping sauces.
Now that we got that out of the way…
How Long Did You Say It Takes to Make Fish Sauce?
Since it can take up to two full years for the salted fish used in actual fish sauce to ferment, I don't think you would be pleased if the recipe I shared with you would take that long to prepare!
Could you imagine if I told you that the Prep Time for today's recipe was TWO YEARS!??!! You would never come back here! (And I want you to keep coming back…)
Is Fish Sauce the Same Thing as Fish Oil?
Another point of confusion also may stem from the similarity in names between fish sauce and fish oil. We went into detail above about what fish sauce is, but what is fish oil?
According to the Mayo Clinic, "Fish oil is a dietary source of omega-3 fatty acids. Your body needs omega-3 fatty acids for many functions, from muscle activity to cell growth…"
Many people take fish oil supplements like these for their health benefits.
But to answer the question above: No, fish sauce and fish oil are NOT the same thing!
Do you Serve Fish Sauce for Dipping Hot or Cold?
I serve my dipping sauce cold. In fact, I like to let it sit in the refrigerator overnight. This helps all of the flavors of the chili peppers, garlic and my surprise ingredient meld together, nicely!
How Long Does Fish Sauce Last?
I try to eat it within 24-48 hours, but it can last several days if refrigerated
Looking for a Meal Delivery Kit Service That Won't Break the Bank?
Check out EveryPlate – America's Lowest Cost Meal Kit Service. At $1.99 Per meal for Your First Box and $3.99 per meal for your next two boxes, Why Wouldn't You Try EveryPlate?
What You Need
This is a simple dipping sauce recipe, requiring very few ingredients.
1 Whole Lime (Fresh)
3 Dried Chili Peppers – you can substitute fresh chili peppers if you can get them
2 Tablespoons of Son Premium Fish Sauce
1 Pinch of Goya Minced Garlic
3 Tablespoons of Sugar
2 Slices Fresh Apricot (SURPRISE!)
7 Tablespoons Water (approximate)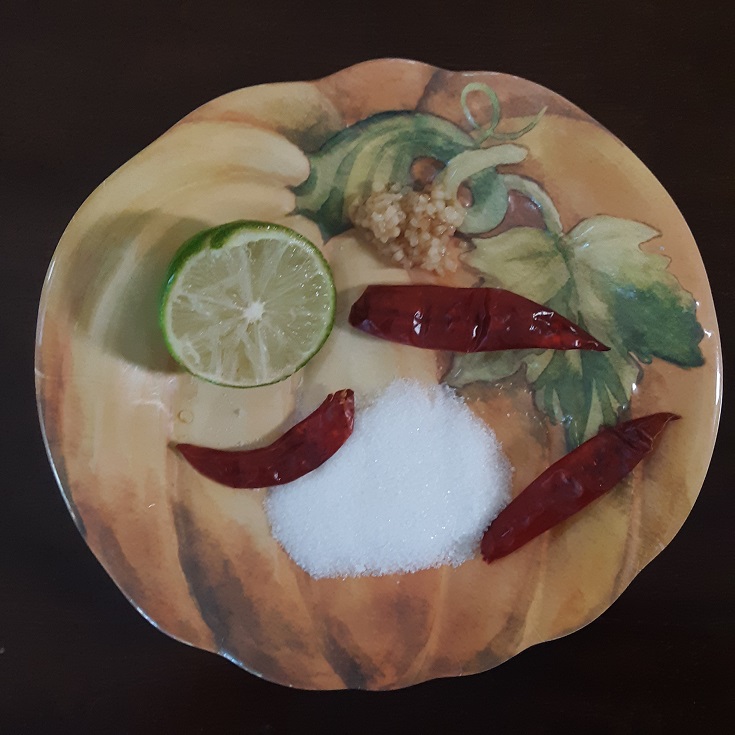 My Favorite Foods to Eat With Vietnamese Dipping Fish Sauce
Unseasoned Chicken Wings
Grilled Pork
Asian Noodles
Egg Rolls
Looking For Other Dipping Sauce Recipes By SeasonalCookbook.com?
Please check out my Quick Gyoza Dipping Sauce – it is perfect for dipping pot stickers into or even fresh spring rolls.
And – if you like Asian cuisine as much as I do, please check out my Best Gochujang Substitute recipe – I think it tastes like the real thing!
Did You Like This Vietnamese Fish Sauce For Dipping Recipe?
And please Join My Mailing List before you go by clicking the big green button below. I'll even send you a FREE COPY of my Seasonal Mediterranean Ingredients List printable PDF
I don't spam my subscribers and you'll only hear from me when I have something new to share!
If you enjoyed this recipe or have some suggestions, please remember to let me know in the comments section below. I answer all comments and would love to hear your thoughts.