Are you looking to take your home cooking to the next level? Before you settle on which cookware to buy, please read this Made In vs All Clad Review, including Side-By-Side Comparison Tables, to determine which brand of cookware is the right choice for YOU!
This post contains affiliate links. That means I will earn a commission if you purchase a product (at no additional cost to you) through certain links on this page. These commissions help keep my kitchen lights on.
If you are reading this page, it's likely that you are becoming more serious about your cooking.
And probably want to upgrade your cookware to something better than what you currently have.
It's also probable that your research has led you to two of the most popular, higher-end brands of home cookware and you are now trying to make your final decision between Made In or All Clad.
Hopefully, this review will help you decide! Let's start with a simple comparison table; later on we'll get into the background of each company.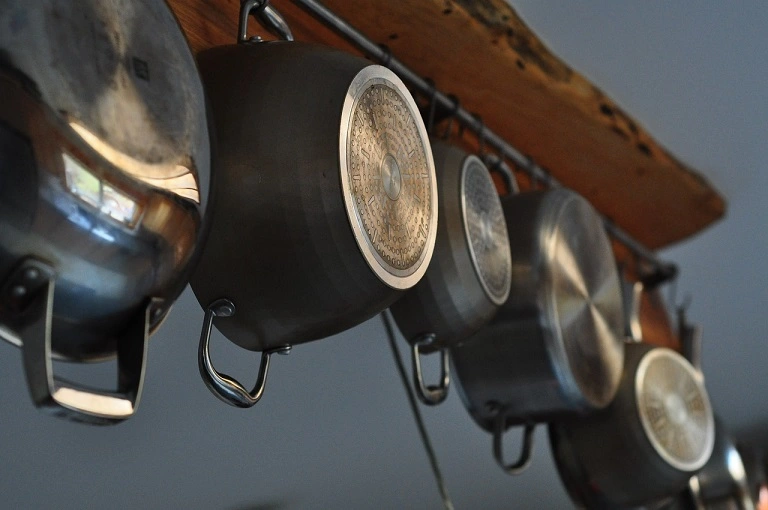 Short on time? Here are two quick links to view the Made-In and All Clad Cookware Collections on Amazon
Made In vs All Clad 12 Inch Stainless Steel Frying Pan Review
Don't you feel like the twelve-inch frying pan is the 'workhorse' of your kitchen? I know I do.
And when it comes to choosing the right 12-inch frying pan, there are a lot of variables to consider from the construction of the pan to the lifespan to how easy it is to use for daily cooking.
Let's take a quick look at these two best-selling frying pans in a side-by-side comparison table.
**Total Height refers to the distance between the bottom of the pan and the highest part of the handle.
Let's discuss some of the features, similarities, and differences between these two 12-inch stainless steel frying pans, each of which is among the most popular items from both manufacturers.
Made In Vs All Clad Overview
Both Made In and All Clad offer several different product lines – many of which seem similar to one another.
In order to make the most informed buying decision, it is important to make sure you are comparing similar product lines between the two manufacturers.
In the next sections we'll compare some of the most popular offerings from each company.
Made In vs All Clad 12 Inch Stainless Steel Frying Pan Construction
Before we discuss the different cookware sets available from each manufacturer, I wanted to present some more information regarding the construction of the stainless steel frying pans offered by each company .
What Are Made In Stainless Steel Frying Pans Made Of?
Made In's stainless steel frying pans are commonly called Stainless Clad frying pans and this may cause some confusion.
This is due to the fact that Made In's fry pans are constructed from an aluminum alloy and core that is surrounded by 5 layers of four different metals, consisting of 18/10 Stainless Steel, aluminum, aluminum alloy and high grade ferritic 403 (hard anodized metal)
The exterior is comprised of Stainless Steel, which is what accounts for that smooth and shiny stainless surface.
And since Stainless Clad (material used by Made In) and All Clad (actual brand name) sound similar, mixing up these brands is an easy mistake to make!
What Are All Clad Stainless Steel Frying Pans Made Of?
All Clad's stainless steel frying pans utilize a 5-ply construction technique and two metals, with alternating layers of stainless steel and aluminum, that provides a long-lasting and durable frying pan.
This technique of using stainless steel and aluminum provides warp-free durability and extremely fast and even heat distribution across this pan's entire cooking surface.
In addition to the solid construction, The All Clad fry pan utilizes riveted, stainless steel handles.
What Other Pieces Does Made In Sell Individually?
Made In sells almost all of their cookware, as individual pieces, and there is a LOT. I'm not going to go through each piece here, but you can View Made In's Entire Collection on Amazon by Using This Link.
Let's look at some of their best-sellers, which include the following:
Made In 12-Inch Non-Stick Frying Pan
Made In 3.5 Quart Non-Stick Saute Pan
Made In 8 Quart Stainless Steel Stockpot
What Other Pieces Does All Clad Sell Individually?
All Clad sells most of their cookware, individually. Just as with Made In above, I'm not going to go through each individual piece of cookware that All Clad offers, but you can View All Clad's Entire Collection on Amazon by Using This Link.
Let's look at some of their best-sellers, which include the following:
All-Clad D3 10 Inch 3-Ply Stainless Clad Non-Stick Frying Pan
All Clad 6 Quart Stock Pot with Lid
Made In vs All Clad – Popular Cookware Sets Comparison
Let's evaluate the best-selling cookware set from each manufacturer and see how they stack up against one another using a comparison table similar to the one we used to compare 12-inch frying pans.
When comparing entire cookware sets, as opposed to individual pieces, it is important to know WHAT pieces are contained in each cookware set.
Key Distinctions Between These Made In and All Clad Cookware Sets
Each set comes with 8-inch and 10-inch frying pans and an 8-quart stock pot, but this is where the similarities between these two cookware sets ends.
Made In's 10-pice set includes a 1.5-quart sauce pot with lid and a 3-quart sauce pot with lid, while the 10-piece set from All Clad includes 2-quart and 4-quart sauce pots (with lids).
All Clad's sauce pots are larger.
The Made In set includes a 3-quart saute pan with lid, while the All Clad set includes a 4-quart saute pan.
All Clad's saute saute pan is larger and can hold a larger portion of food.
Keep in mind when comparing prices between the Made In set or the All Clad set, part of the higher price point of the All Clad set may be attributable to that set offering slightly larger pieces.
Finally, it's important to note that the lids contained in each set are considered individual pieces.
So, as you can see from the table above, four of the pieces in each set come with lids. These 4 lids added to the 6 pots and pans are what accounts for the 10 total pieces.
Stainless Steel Frying Pans Versus Non-Stick Frying Pans – What's The Difference?
Stainless steel frying pans are ideal for browning, searing, and pan-frying foods like eggs, vegetables, and meats. The typically flat surface and flared walls of most frying pans make them ideally suited for easy, one-hand hand sautéing.
Stainless steel frying pans do not contain special nonstick coating, but higher-end pans allow even distribution of very high heat, and allow for cooking with fats that help alleviate some of the common problems with food sticking to these pans.
Non-stick frying pans are designed differently. Nonstick pans feature special coating called non-stick coating that is bonded to the steel base and allows food to slide right off the pan.
Non-stick pans are ideal for frying eggs and cooking your favorite stir-fry.
One thing to remember is to AVOID washing non-stick pans in the dishwasher because the very hot water and abrasive dishwasher detergents can break down the non-stick coating.
How Higher-Priced Cookware Can Save You Money
Sometimes spending a bit more for quality cookware that lasts longer will end up saving you money in the long run.
It will not be necessary to replace your cookware as often and, by following the manufacturers guidelines, things like the nonstick coating of either brand should last a very long time.
Common Mistakes Some Other Made In Versus All Clad Reviews Make
The biggest mistake I have seen is NOT comparing an equivalent product from each company – and it's not that easy to always identify what the equivalent offerings are because many of the product names are similar.
For example, it's very possible to compare the Made In Stainless Clad frying pan with the All Clad D3 Stainless Steel frying pan and come to the conclusion that Made In fry pans have a more durable construction because of the five layers of metal used.
But this example above is not a true apples-to-apples comparison.
To evaluate Made In versus All Clad side-by side you'll want to make sure you are comparing the 5-Ply Stainless Clad Frying Pan from Made In to the D5 5-Ply stainless Steel Pan from All Clad.
Is Made In Cookware Induction Safe?
Yes, all Made In cookware is induction cooktop safe
Is All Clad Cookware Induction Safe?
Yes, with the EXCEPTION of All Clad's Copper Core cookware.
It would take another entire article to cover all of the products, as well as the differences, of All Clad's Copper Core Cookware line.
But if you want to investigate more about All Clad's Copper Core Cookware, please visit this page on Amazon.
Cookware Buying Guide
Here are a few things that may help you when deciding which cookware to purchase
Identify What You Need
I know this sounds obvious, but it's good to have a clear focus of what you want to buy!
For example, before even beginning to look at the different products, focus on what you need, such as determining whether you need a 12-inch non-stick skillet or 10-inch frying pan.
This will help eliminate certain products or product lines right off the bat, which will save you time.
Determine Your Budget
Sometimes this will be your deciding factor when making your final decision of whether to choose Made In or All Clad.
If you don't have the budget for an All Clad piece of cookware, Made In is a perfectly fine choice with many great qualities.
Make Sure To Do An Apples-To-Apples Comparison
Once you've determined what you need (individual piece vs multiple pieces, frying pan vs non-stick skillet, entire set vs partial set, etc) and come up with a budget…
…the next step is to make sure you are comparing similar cookware pieces from each brand.
As an example, if you are comparing stainless steel frying pans like we did in the table way up at the top of this post, make sure you are comparing the 5-Ply pans from Made In versus the 5-Ply (D5) product line from All Clad.
Made In Vs All Clad – Which Brand Is More Expensive?
In general, All Clad is the more expensive of these two brands.
A few things to consider before making your final purchasing decision are potential sales, shopping on days when there may be special deals, such as Amazon Prime Day, or being notified of special manufacturer discounts.
Sometimes, even buying multiple pieces of cookware at the same time will reduce the cost-per-item and save you money.
If you'd like a friendly reminder about these buying opportunities or to be notified of any discounts, please Subscribe to my Email List by clicking the big green button below.
I don't spam my subscribers and you'll only hear from me when I have something new to share.
Made In Vs All Clad – Which Brand Is A Better Value For The Money?
My conclusion is that both brands provide good value, but each has their place in the kitchen.
Despite the recent television commercials featuring professional chefs endorsing Made In cookware, All Clad has been around longer and I think holds up better to the extremes that all cookware undergoes.
For the home chef – even the serious home chef – either brand will do, but if you have a catering business or cook professionally, All Clad should be your choice.
Made In vs All Clad – How To Clean Your Cookware
Hand-washing with the soft sponge is the recommended method for cleaning either brand's cookware.
Although Made In and All Clad cookware is, technically, dishwasher safe, the extra heated dishwasher water can damage stainless steel cookware, as well as remove non-stick coating from non-stick cookware.
Both Made In and All Clad recommend hand-washing their cookware.
Made In vs All Clad Company Overview
For those of you who made it this far and are interested, here is a little bit of background information about each company
Made In Background
Made In is the younger of these two companies and was founded as recently as 2017. Made In began as a restaurant supply company that transitioned into their current role as a leading cookware brand that not only outfits the kitchens of some of the best restaurants in the world, but they also make their professional cookware available to home chefs.
All Clad Background
All Clad launched a line of stainless steel tools back in 1971. Since then, All Clad's founder also created the modern form of cladded cookware, which uses multiple layers of stainless steel together with other heat-conducting materials, in order to improve the heat retention and temperature control of stainless steel.
Their original line of stainless steel cookware has since evolved into non stick, ceramic, and other offerings, along with kitchen accessories, and bake ware. All Clad is the more mature of these two brands and their high-end cookware is very popular with professional chefs and serious home cooks.
Comparing All Clad To Made In Is Not Easy
One of the things that is difficult when comparing these two cookware brands is to make sure we are comparing similar product lines, as well as understanding the applications of each cookware piece and the differences in the manufacturing process.
Each company uses a different construction technique for their cookware and offers mainly similar – but also many unique – products such that comparing Made In versus All Clad can become a bit overwhelming!
So, I hope that some of what I shared above is helpful to you.
Made In Vs All Clad – Conclusion
I got tired of using lower-end cookware a long time ago and decided to upgrade – similar to the situation in which you probably now find yourself.
My research led me to narrow down my choices to Made In and All Clad and this review article highlights some of the research that I did when comparing Made In to All Clad.
Both of these brands are totally adequate for a semi-frequent home, chef and food blogger like myself, but I hope that some of the similarities and differences I presented above help you make your final decision.
Trust me, I know that when you have cookware that you have to constantly replace, it's very frustrating AND expensive!
Sometimes it's better to spend a little more up-front and get yourself cookware that will last a very long time.